SMOKELORE
Author Jim Auchmutey gives National Barbecue News readers a first-hand preview to his brand new release…and much awaited…American BBQ history book!
When you're writing a book about the history of barbecue, you get to go places the conventional histories don't usually go. One of my favorite detours in researching "Smokelore: A Short History of Barbecue in America" (coming out in May) was the time I phoned a retired Secret Service agent to talk about Dwight D. Eisenhower, grillmeister.
Ike liked to fire up the coals. I had visited his home in Gettysburg, Pa., and seen the beautiful brick pit out back. But I didn't know how what a grill lover he was until I read a story in the White House History Quarterly which detailed how he cooked out on the solarium balcony at the executive mansion, leading passers-by on Pennsylvania Avenue to wonder whether the place had caught on fire.
A friend of mine at the Jimmy Carter Library in Atlanta suggested I contact Clint Hill, the Secret Service agent best known for climbing aboard John F. Kennedy's limousine after he had been fatally shot. A few years before Dallas, Hill was assigned to President Eisenhower's security detail and watched him grill in Washington, Camp David, Gettysburg and his in-laws in Colorado.
"He did something I'd never seen before," Hill told me. "He'd salt and pepper the steak and put it directly in the coals. Then he'd pull it out and brush off the ashes. It looked like a big chunk of black, but then he would slice it diagonally and it would be pink and juicy inside."
Eisenhower was probably our grillingest president, but he was far from the only one. Perhaps two-thirds of our chief executives have documented connections to barbecue. Of course they would. They were Americans.
I believe that barbecue is the most truly American food – much more so than apple pie, which usually comes to mind because of that old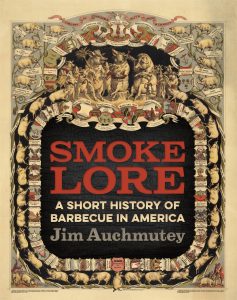 saying. Barbecue goes back to the earliest encounters between European explorers and indigenous populations in the New World. It involves almost every aspect of our history, from the colonial era to slavery to the settling of the West to the rise of the automobile to the expansion of suburbia to the more recent rediscovery of craft and tradition. With roots on four continents and in almost every ethnic thread that makes up our nation, barbecue embodies America better than any other food.
How else would we celebrate Independence Day but with a barbecue?
"Smokelore" tells this story with 50,000 words of text, 26 recipes and 208 illustrations, many of them vintage photos and retro advertisements. One of them, an 1870s lithograph showing pork specialties in all the states, was used as the basis for our cover. Eagle-eyed readers in Texas have already suggested that I must be a pig-headed Southerner to chose cover art that doesn't include cows. I can only answer that I love brisket as much as the next guy and am more likely to smoke salmon than anything else on weekends. But that pig lithograph is pretty striking; sorry, we just couldn't resist.
"Smokelore" began as the companion volume to "Barbecue Nation," an exhibition about the history and culture of barbecue at the Atlanta History Center (on view through Sept. 29). I was a consulting curator for that show and was asked to author the book because I had written about barbecue and many other foods as a reporter at The Atlanta Journal-Constitution for almost 30 years. (In fact, I once traveled to Douglas, Ga., to write about the National Barbecue News.)
I also have many family ties to the subject. My great-grandfather and grandfather were noted pit masters in the Etowah River Valley of northwestern Georgia, my grandfather once having been written up in a 1954 article about Southern barbecue in the Saturday Evening Post. My father and uncle specialized in Brunswick stew, and my mother's family ran a slaughterhouse in middle Georgia making country sausage and staging the occasional pig-picking.
So barbecue is personal for me. It is for many, many Americans, from presidents on down. That, I think, is the point. This is our national food, and it deserves to be studied and celebrated as such.
Buy "Smokelore: A Short History of Barbecue in America," HERE!