Bugs, Beets & Barbecue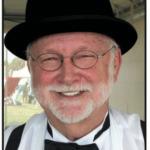 Ardie Davis
aka Remus Powers
BBQ Hall of Famer
"Don't tell Bubba I said it, but this beet root and mealy worm charcoal grilled burger is the best danged burger I've ever eaten!" "Really, Honey!? For you to praise it like that, I've gotta try a bite!" Ken passed the burger to Sue. "Wow! This knocks my sandals off! I swear I've never tasted a better burger. It's got smoke. It's got juice. It's got meat that beats the heck out of all the bull meat I've loved since Eve ate that apple." "Forget the burgers," Paul chimed in. "You'd better try these ribs. If I didn't know better I'd swear that these here are beef, these here are babybacks, and these here are spares. Not only do they look like real beef and real pork, they taste like it and chew like it too. And unlike real bones, these bones are crunchy and nutritious. Delicious too!" After Ken and Sue tried a sample of each of the three types of ribs on Paul's platter, Sue said, "Ken, Honey, if my sandals weren't already knocked off, I swear these ribs would do it! What's the secret, Paul?" "All I know is that flavor scientists and other experts got millions of dollars from venture capitalists to transform worms and bugs and live animal stem cells and beets, soybeans, seaweed, algae, kudzu, and other plants into these ribs and that burger you ate without slaughtering a single steer or pig. Same goes for yard birds and other fowl. They can make meat that tastes just like chicken." "Okay, I get it that scientists have done an unbelievably fantastic job of making this organic alternative meat revolution happen, but you and I and millions of other barbecue cooks on the planet know that real barbecue goes beyond meat quality. It's about how you cook it and how you season it. How about that?" "Easy, Sweetie Pie," Ken replied. "Flavorists, using computers with Artificial Intelligence, experimented with millions of spice, herb, cheese, nuts, roots, greens and fruit combinations, paired with an array of alternative meats that were smoke roasted or live fire grilled by a robotic pitmaster with Artificial General Intelligence to assure perfect combinations of smoked, seasoned meat made to appeal to people worldwide who favor barbecue the way they remember it back home." "Well buckle my sandals, Honey. We knew this day was coming, but I had no idea it would happen so soon!" • From On the Road Again with Ken & Sue (April 15, 2019 – fiction)
Welcome to National Barbecue Month!
May is a perfect month to celebrate barbecue! Take a barbecue roadtrip. Frequent your favorite pit stops and give thanks to your local pitmasters for all they do to make your life better. Anonymously cover the check for a stranger, group of strangers, firefighters, police or others just to make their day. Organize or help out with a Senior Q lunch at a senior living abode to honor our elders. Try mastering barbecue brisket or pork butts without foil. Invent a new stuffing for your jalapeno poppers. Tweak your bbq pit beans recipe. If you'll be in Memphis, stop at the Rendezvous, order some dry ribs and a frosty beer, and raise a toast to the late Charlie Vergos, John Willingham, Silky Sullivan, Joe Phelps and Doc Gillis, whose influence on the spirit of barbecue continues to this day.
It is also timely to think about barbecue yesterday, today and tomorrow during National Barbecue Month. How does barbecue of yesteryears compare with barbecue today? How will barbecue in the future compare with today's barbecue?
We're only about nineteen and a half years into the 21st century and stuff is happening at a head-spinning pace! The exponential advancement of technology is creating new jobs and replacing many jobs with robots. We have instant Internet access to reliable and unreliable information on almost any topic or person. GPS enables us to get to where we're going, be it from Big Bob Gibson's in Decatur, Alabama, to Arthur Bryant's in Kansas City, or from Prairie Fire BBQ in London to Stonehenge; anywhere, everywhere. Eventually self-driving electric-powered smart cars will do the job. Smart phones, smart TVs and smart homes are commonplace.
The smart revolution thus far has a small footprint in global barbecue. The main focus has been on better cookers and hi-tech gadgets to control and monitor temperatures. In addition, flavor scientists continuously work on new and improved flavor combinations that will help put your barbecue in the winner's circle.
In the alternative meats and robotics arena, I'm not seeing much evidence of collaboration with barbecue pitmasters or the barbecue
industry. Is it inevitable that smart robots and a combination of plant-based/bug-based/meat grown from live animal stem cells will be next? Will our current barbecue culture, organizations, industry and lifestyles be regarded as "so yesterday" before we're even halfway into the 21st century? Maybe, maybe not, but we need to be aware of what's happening now and how it could impact barbecue tomorrow.
On the robotics front, take a look at the robotic kitchen prototype now in the works by Moley in the UK and imagine how that same technology could be applied to smart barbecue. Naveen Joshi's article in Forbes magazine last December, "Will Chefs Lose Relevance In A Robotic Kitchen?" is a worthwhile glimpse into a possible barbecue pitmasters' future.
Burger King's launch of flame-grilled Impossible Whoppers is another signal that alternative meat has entered the mass market food
industry. Burger King now offers flame-grilled plant-based Impossible Whoppers in 59 St. Louis area Burger King restaurants. If St. Louis loves the flame-grilled Impossible Burger Whoppers, they will soon be available in more than seven thousand other Burger King sites nationwide. Food writer Mary Allen has also reported that Impossible Burgers are being added to the menu in all 570 Red Robin restaurants.
After introducing Impossible Sliders in 140 metro Chicago, New York and New Jersey stores in April 2018, White Castle rolled out their newly-formulated plant-based "juicier, beefier and tastier" $1.99 Impossible Sliders in every White Castle across the nation a year later, in April 2019.
Rohini Chaka's recent article, "Inside IKEA's Laboratory of Futuristic Foods," is a fascinating account of what teams of food scientists and culinary experts, along with design experts and architects are doing inside a former fish market now dubbed Space 10, in Copenhagen's Meatpacking District, to push the global food landscape forward. Will IKEA's food lab add meat made from bugs, mealworms and plants to our barbecue plates? Or, will research teams in the Silicon Valley, the Netherlands and elsewhere beat them to it with their lab-grown meats? The race for the prize is fueled with millions of dollars of venture capital.
Barbecue five to ten years from now could look, feel and taste like today's barbecue, if scientists succeed in making palatable, affordable bug burgers, bug meat balls and other alternative meats, along with smart robotic pitmasters.
Meanwhile, besides National Barbecue Month, Mother's Day is May 12, and the "Game of Bones" Memphis in May World Championship Barbecue Cooking Contest May 15-18. Share and do good. It's contagious.