EGGtoberfest: A Must Do!

By Kell Phelps
Publisher, National Barbecue News
The celebration of the Big Green Egg (BGE) is defined by this "must do" event.
EGGtoberfest is an annual event held in Atlanta each October. The BGE, which is an Atlanta based company, uses some of their "EGGhead Community" to offer up their best creations for attendees who have purchased a ticket. The festive annual family-oriented event also provides an opportunity for someone thinking about buying an EGG to see firsthand the versatility of the intriguing ceramic cooker. The EGGs cooked on are sold afterward; some lucky purchasers can take one home at day's end. The tremendous enthusiasm generated by EGGtoberfest has resulted in a growing number of regional EGGfests held throughout the country.
Upon arriving at the Stone Mountain, Georgia location we could tell this was indeed a major event. We actually got our first invite to see what EGGtoberfest was all about over 15 years ago from our friend and fellow EGGhead "Dr. BBQ" Ray Lampe. There is no doubt that this event will indeed be on our calendar for years to come and we really regret we didn't attend sooner. Ray has always been a huge fan of the ceramic green cooking machine, and after seeing how versatile the unit really is, we can see why. Honestly, if you can dream it up it can be cooked on these grills, and we first hand witnessed about everything imaginable being done at the 20th Annual EGGtoberfest.
The fest originated in 1998 as a way for Big Green Egg to say "Thank You" to loyal customers that regularly logged on to the Forum to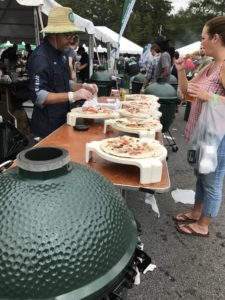 chat and share recipes and experiences and found themselves becoming fast friends. Many were eager to meet their online "family" and EGGtoberfest provided the opportunity to get together and cook their favorite recipes on the EGG. The first year, about 100 Big Green Egg pioneers attended the cookout at the American Legion Hall in Atlanta, with 15 cooks firing up an EGG. The meet, greet and eat event turned into the First Annual EGGtoberfest, which was considered a big success.
The Annual EGGtoberfest has grown to a fun-filled weekend celebration where more than 200 EGGs are fired up by new and experienced EGGheads to feed the enthusiastic crowd of over 5000 people. Spectacular fare can range from moose kabobs (the result of a successful Maine hunt) and a roasted whole fresh Alaskan salmon (caught, brought and cooked by an Alaska EGG owner) to exotic breakfast dishes, peach cobblers, grilled pineapple, rum soaked apple cake, smoked turkey necks, barbecued meatloaf and many versions of the more traditional pulled pork, fallin'-off-the-bone ribs, spicy sausages, juicy beef brisket, crispy pizza and just about any other food that you can imagine.
In closing, we asked a few attendees and EGGheads to explain what this event was all about. The best explanation we got all day was from a teenager who told us "It's like a huge tailgate party that you pay to attend with a massive number of cooks but instead of a game to attend we all just stick around and hang out with everyone we have met." We want to give a big thanks to the creator of the event Bob Atkinson. It is his marketing genius ideas that have turned this event into a major "must do" for every EGGhead across the world. We also want to thank "Dr. BBQ" Ray Lampe for the invite and apologize at the same time for taking so long to show up to the party. We are looking now at becoming part of the EGGhead family and looking for our next EGGfest to attend.