A LOT AT "STEAK" IN TEXAS!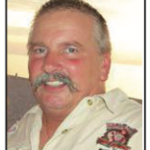 Dana "Big Papa" Hillis
FBA Trail Guide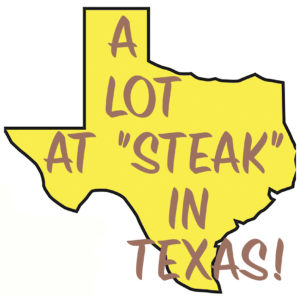 Janet and I have had a blast over the years cooking somewhere we have never cooked before. Hanging out with people we don't get to see very often gives us a chance to catch up on what's going on in other parts of the country. We have been cooking a few SCA contests, and the new has not worn off these competitions yet. The cost to cook a steak contest is a lot less than a BBQ contest, and they are easy to get to (you don't have to pull a trailer), you can carry everything you need in your trunk or minivan or pick up truck, and everyone has a great time cooking a steak. We still get to pick on judges, the steaks are provided so we can blame a lousy score on the butcher, and the numbers listed don't tell who you are so saying you took eleventh is hard to prove wrong!
In SCA steak competitions if you win 1st place at a contest, you receive a golden ticket inviting you to the World Championship in Texas. We were lucky enough to get our invitation and made the trip to Fort Worth to compete with the best steak cooks in the world. Several of these cooks come from Florida and Georgia, and the rest of the country. A total of 12 countries were represented at this awesome event. They had a dinner and awards ceremony at Billy Bob's, and it was worth the trip just to hang out and see this amazing place. Brian McClarty and 407 BBQ took on the task of feeding the biggest crowd of BBQ critics you will ever see and did an outstanding job. The brisket, pork, potato salad, beans and especially the jalapenos were exceptional. I was genuinely impressed with the food.
The awards were fun to watch with all the countries represented and congrats to several Florida teams for being in the Top 25. Lee Thompson did well, and so did Gene Skillin. Next year we will put a limit on shots of whiskey consumed by the SCA announcers unless I happen to be on stage with them!
The volunteers were amazing and worked hard to make this event go well. The SCA is made up of awesome people and has the old-fashioned feel like we had at the "Best of the Best" if you old timers remember how good that was.
The championship round was made up of 4 groups of 40 plus teams. You had to place in the top ten to move on to the Top 40 Championship round. John and Tona Pendray, who are two of the nicest people I have ever met, placed in the top ten and moved into the final round. Several other Florida teams placed in the Top 40, but the Pendrays had a great trip to Texas. They ended up winning 5th place overall…Top 5 Steak Cooks in the entire world! I have never been so happy for two people in all the competitions I have been to, and these two truly deserve to do well. I was given a sample of there second steak, and it was the best I ever tasted. If they had a dessert competition, they could have won with there coconut creme pie cause it is the best I have ever had!
We had a great group of teams from Florida. John Sweeney and Steve Coddington came down from Michigan to join us, and my good friends from Naples, Dan and Diane Wolney, hung out with us. They just relocated to Weatherford, Texas, which is just down the road from Fort Worth. Cline Walters made the trip and hauled all my cookers and equipment with him. Jim and Laura Haskett, Josh and Jerrod Carter, the Whiskey Bent Crew, Brian and Dana Coleman, The Pendrays, Judy and Casey Jones, Jack, and Sandi Fallin, Darryl Strickland, Gene Skillin, Jimmy and Laura Ragland, Jim Bowie, the steak princess (the 12 year old cooking machine), Kyle Pendray, Russell Wright, Josh Gimeson, who ended up 3rd out of 180 in the open, Amy Buchanon, who I think was 4th in the open, and Jerry Buchannon, were all in Fort Worth. I hope I did not forget anyone. Judy Jones was 11th overall, but I think they forgot to call her!
Texas was a lot of fun. We toured the stockyards. We ate at some local restaurants, drank a few shiner bocks, got to meet and pet Diane's donkey and miniature horse, shopped a few unique stores and meet some really cool folks from all over. We are going to try our best to win another golden ticket because we definitely want to go back next year. A lot of teams around the country cook in a lot of contests, but here in Florida we cook against 40 or more teams in any given contest. You win down here you have beat some extra of the best!
We have qualified for the World Food Championships next month and are looking forward to another big steak cooking adventure in Orange Beach, Alabama. This morning I am writing this article on Main Beach in Fernandina Beach, Florida staring at the Atlantic Ocean getting ready to cook a steak contest, and a butts and briskets contest to raise money for Q'ing for a Cure. All funds are being generated in the name of our good friend Joy Park, who recently lost her hard-fought battle with cancer. Joy and her husband, Gary, are loved and well known up here.
See everyone at a contest soon and cook some folks some BBQ- it makes people happy! Dana "Big Papa" Hillis