BBQ is Life…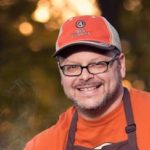 Ray Sheehan
BBQ Buddha
All photos courtesy of Ray Sheehan
Barbecue has arguably been referred to as America's cuisine. What you cannot argue is that it is a social gathering steeped in tradition that brings people together. Whether in good times or bad, for fundraisers, family reunions, or just a dang good supper. These get togethers offer us a reprieve from the daily grind of running around and help us slow down and enjoy each other's company. That's what it's all about isn't it? The relationships, and comradery that we forge with family, friends, and neighbors is helping us build communities. We are passionate about promoting BBQ not only as the sport, the business, and the backyard but especially those people who have taken on a greater mission through BBQ to help others.
Take for instance Operation BBQ Relief, founded in May 2011 in response to a need for relief efforts in tornado-stricken Joplin, Missouri. Competition BBQ teams from eight states volunteered to answer the call to help feed displaced families, police, fire, National Guard, and emergency personnel. They served over 120,000 meals in 13 days. Food was delivered by the volunteers to shelters, hospitals, senior living facilities, and directly to families in the impacted
areas. Operation BBQ Relief continues to respond to natural disasters and other situations to help feed displaced residents and emergency personnel. For more information or to volunteer or donate please visit www.operationbbqrelief.org.
Code 3 Spices, founded in 2010 by Michael Radosevich and Chris Bohnemeier has won numerous awards for its BBQ sauces and rubs. Although they didn't just start the company to bring you the best blends, they also share a great passion for the men and women who serve as first responders and in military services. A portion of profit from each bottle sold is contributed to organizations that support police, fire, medical and military personnel. Check out their award-winning lineup at www.code3spices.com
Beginning as a competition team in 2015, Veterans Q has won their fair share of awards. This BBQ sauce and rub company is not only veteran owned and operated but it donates 100% of their profits (after costs) to organizations where a large portion of the funding goes directly to the veterans themselves. For more info www.veteransq.com
BBQ- A place to belong
KCBS – The Kansas City Barbecue Society is a nonprofit organization dedicated to promoting and enjoying barbecue. It boasts over 20,000 members worldwide and sanctions over 500 barbecue contests each year. For more info please visit www.kcbs.us
NBBQA- Since 1991 The National Barbecue & Grilling Association has been the voice of the industry, helping people become successful in the business of barbecue. For more info please visit www.nbbqa.org
These businesses and organizations are just to name a few as there are many in BBQ that give back. In fact, many of the sanctioned BBQ events that teams participate in are typically for a charitable cause. To me there is nothing better than being able to cook BBQ with friends and family and the fact that it is helping others makes life that much sweeter.
Although the look and feel of this magazine has changed our mission to inspire, encourage, and educate others through our recipes, articles, and BBQ related information has not. This allows us to give back in a way that preserves our BBQ traditions, creates new ones, and passes the torch to the next generation of barbecue enthusiasts.
Memphis BBQ

KCBS

International BBQ Cookers

California BBQ
National Barbecue & Grilling

Minnesota BBQ

Mid-Atlantic BBQ


Originally it started as a printed newsletter to let avid barbecuers keep track of upcoming events and results from past events. Today we have evolved into a barbecue and grilling information super highway as we share information about ALL things barbecue and grilling.