Unique Recipes From the Kansas City BBQ Baron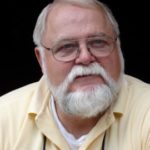 Paul Kirk
BBQ Hall Of Famer
Certified Master Judge
BBQ Is Now!
Celebrate the flavors of a traditional Mexican mole sauce with a high-impact dry rub featuring dried chipotle, cocoa and cinnamon, topped with a cool mango salsa.  It's great on your grill.
Mexican Mole Pork Chops
Ingredients:
4 pork chops (1 1/2-inches thick, bone-in)
Mango Salsa
1 large mango, peeled, pit removed and cubed
Juice of one fresh lime
1 tablespoon finely chopped red onion
1 to 2 teaspoons snipped fresh cilantro
1/4 teaspoon salt
Dry Rub:
1 tablespoon brown sugar
2 teaspoons onion powder
1 1/2 teaspoons cocoa
1 teaspoon garlic powder
1/4 teaspoon ground chipotle, depending on heat desired 
1/2 teaspoon ground paprika
Dash ground cinnamon
Dash ground allspice
Directions:
Combine ingredients in bowl and blend well. 
In small bowl, combine dry rub ingredients; rub onto both sides of pork chops. Set aside for 30 minutes. Preheat grill to 400º to 450º degrees F. When ready to cook, spray light coat of cooking spray on pork chops to keep them from sticking to the grill. Place on hot grill. Cover; cook for 7 minutes per side or until internal temperature reaches 160º degrees F. using an instant-read thermometer. Let rest for 5 minutes. Serve with Mango Salsa, if desired.
Serves 4
Not keeping with the southwest theme here is a recipe which is different, easy and good.
Danish Pork Burgers 
Ingredients:
1-pound ground pork
1 red onion, finely diced
16 saltine crackers crumbled
1/2 cup whole milk
2 eggs, lightly beaten
1 teaspoon kosher salt
1/2 teaspoon freshly ground black pepper
Vegetable oil for cooking
Dijon mustard for serving
Directions:
Combine the pork, onion, saltines, milk, eggs, salt, and pepper in a large bowl. Use your hands to mix well together.
Lightly brush a large, nonstick skillet with vegetable oil. Heat on medium high heat. Divide the pork mixture into 8 equal portions. Working in batches, drop them from a spoon into the hot pan, spacing them evenly. Pat down with the back of a spoon to form into patties. Cook each patty, turning once, for 4 to 5 minutes per side, until golden brown.
Serve the burgers hot with a dollop of Dijon mustard mixed with some BBQ Sauce.
Serves 4
You can grill this tenderloin or barbecue it using indirect cooking method.
Grilled Chipotle Pork Tenderloin 
Ingredients:
2 pork tenderloins, 12-16 ounces 
1 8 ounce can of tomato sauce 
1/2 cup water 
1/4 cup cider vinegar 
5 canned chipotle peppers minced
5-6 cloves garlic pressed
1 tablespoon olive oil 
2 teaspoons cane sugar 
1 teaspoon ground cumin 
1 teaspoon dried oregano 
1/2 teaspoon salt 
1/4 teaspoon ground cinnamon 
Directions:
Combine all ingredients, except pork, in a large saucepan. Bring to a boil, remove from heat and let cool. 
Place pork tenderloins in a shallow pan, pour over marinade. Cover and marinate in refrigerator for 2-4 hours. 
Remove tenderloins from marinade. Make sure to reserve marinade for later use. Preheat grill. Place pork on grill rack and cook over medium high indirect heat for 35-45 minutes. Brush occasionally with reserved marinade. Remove from heat and let stand for 10-12 minutes before slicing. 
You can also cook it using indirect cooking, but it will take about an hour.
Enjoy!