[wp_bannerize group="Leader Ads" random="1" limit="1"]
New Product OVERLOAD
Over the past few months we have gotten to play with a BOAT LOAD of new barbecue products. Here are a few of our proven favorites!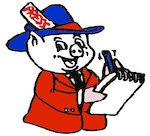 Mr. Ben Que'n
New Product Information
Uncle Pookie Drum Smoker
https://www.unclepookiebbq.com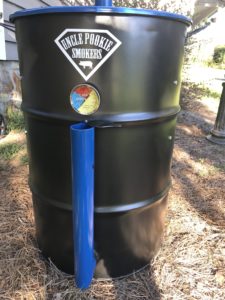 If you are looking for an easy and efficient smoker, then you need not look any further. This single air intake drum smoker is a real dream to cook on and is perfect for those longer cooks for only two or three pork butts or briskets.
The huge heavy duty basket is designed to let the ash fall away from the unburnt charcoal so it can maintain 225 degrees for an entire 24 hour period with no problem.
Our max temperature reach hit upwards of 350 degrees which makes it perfect for chicken as well. Our spatchcocked tests came out perfect with crispy skin and tons of moisture.
The Uncle Pookie unit also features a unique drip rack system to prevent grease fires during big protein cooks but also allows some drippings for the steam effect from the cooking process.
Overall we will be using this unit a ton as we test other new products in the near future. We will also be adding this unit to our competition teams list of weapons during those battles.
gosun Solar Assist Flashlight/Battery
www.gosun.co/collections.accessories
A ton of great barbecue action happens during the night as we prepare for the next day. It is almost impossible to perform those actions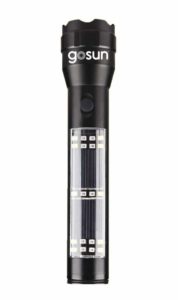 without some type of dependable light source.
GoSun has produced the ultimate light source in their solar assisted LED flashlight. The unit is designed for all types of outdoor activities and is perfect for any kind of barbecuer.
A magnetic end, USB chargeable, also acts as a phone charger, solar charge capability, different light brightness settings, side LED lights for lamp type use, red LED light mode and flashing SOS mode too.
This beyond useful tool is now a permanent place in our toolkit. The best part of this multi light tool is that is the retail price of just $29!
Tappecue Touch Smart Thermometers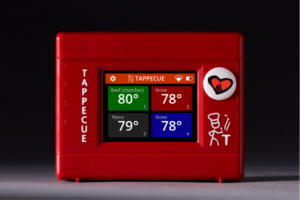 If you are serious about cooking great barbecue, then you understand just how important internal temperature is in the cooking process of any protein. As far as we are concerned, there is nothing more important in the cooking process. Simply that single element determines if your product is done correctly or not.
The new Tappecue Touch has no other job but to help you easily achieve that perfect final temperature of anything you are cooking. It will also not only help reach that perfect temp on a single item but will monitor and report to you on up to four different items at the same time.
Our test unit performed flawlessly and was nothing short of a snap to set up so we could watch our products cooking from virtually anywhere through the wireless technology that transmits to any smartphone thru WiFi or Bluetooth. Our test showed this to be the most accurate digital thermometer unit we have ever tested. Period!
One reason these units are so accurate has to be contributed to their thick insulated probes. The Tappecue probes are indeed the most insulated probes we have ever used. We expect them to last for a very long time because of their construction. Tappecue has just released dual-sensor probes and splitters, increasing the probe capability to be expanded to 8 readings.  They have also added a battery saver option to turn off the screen and increase the battery life to over 20 hours.
Tappecue is currently offering a special deal on their Operation BBQ Relief red units. They will donate $20 for each of the red units sold in the coming weeks as a way to give back to this beyond worthy cause as they need any help they can get after these recent storms where they have fed over 75,000 hot barbecue meals over the past few weeks.
Our test unit has a retail price of $199, and that includes the four color-coded super-insulated probes. You can find this product on Amazon!
The Rib Ring From BBQ Guru
Looking to turn your standard charcoal grill or ceramic smoker into a feeding machine? The BBQ Guru has the tool to help you feed the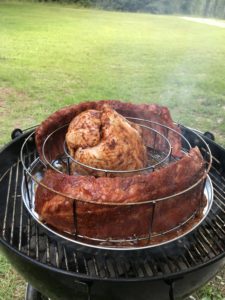 entire crew!
The new Rib Ring from BBQ Guru is a circular rack that can hold up to four racks of ribs and a whole chicken at the same time. This amount of meat should be enough to feed approximately 20 people at a feeding with a few sides.
Our test of this product proved several times that it could handle the above-mentioned load easily and with the added drip pan under the ring we never had to worry about a grease fire from the meat drippings.
Clean up was a bit of chore but considering the task the unit had completed with our small 18" grill, we figure that was a simple trade out versus buying a larger grill or smoker.
Party Fowl Chicken Brine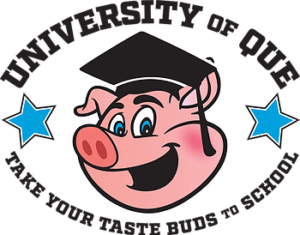 Everyone loves a great piece of chicken, and now you can make sure your chicken always comes out superb. The University of Que Party Fowl Chicken Brine is without a doubt a super flavor maker on a protein that can sometimes turn kinda bland.
North Alabama husband and wife team, Kevin and Tammy Jacques, have done their homework on this product. This very simple process is much cleaner and neater than the usual injection method used by tons of bbq fans. Their University of Que also offers BBQ classes and team builder courses to help any barbecue fans.
Our tests with this product worked on both individual pieces as well as whole birds. Every test we tried produced chicken that was super moist with a large amount of flavor all the way to the bone. We highly recommend this one for anyone who competes or is looking to make their chicken better.
Bison Air Lighter
Bison Airlighters have come up with a product that can light charcoal without the need of nasty lighter fluid and can help with countless

other jobs…including helping to make perfect photos of different foods. The first of these jobs are fairly easy to understand as the airlighter uses a butane fed torch to get a bit of fire started on the charcoal. Once the charcoal has a tiny bit of heat and glow to it than merely let off the lighter function and press the fan blower function to accelerate the lighting process. This process works exceptionally well in any charcoal chimney or piled charcoal inside a cooker.
The help in making perfect photos comes from my experience with the media while covering Memphis In May back in the middle 2000's when I had the all-access pass to the media room. There I witnessed the Fox affiliate getting a slab of ribs ready in about 10 minutes for a live report from the event. They started with a raw rack of rib and then seasoned them up with a sugar based rub and took a butane torch, much like the Bison Air Lighter torch function, and carmelized the top of the ribs to absolute perfection. Funny thing was the bottom side of the ribs were still as raw as ever…but they were beautiful. I have no doubt this unit can produce those same exact results if needed for your photo opportunity.
This multifunctioning lighter really cannot be compared to any other product on the market. The closest thing to compare this unit to would be the Looftlighter from Sweden that we reviewed a few years back. The Bison Air Lighter runs off batteries which makes it a truly portable unit whereas the Looftlighter has to be plugged into a 110-volt electrical outlet for power. The Looftlighter also only has a single function whereas the Bison is multifunctional with a blower and torch.
The butane tank on the unit will keep a full flame burning about eight minutes before needing to be refilled. The flame can also be adjusted to create a smaller flame and will probably cause the tank of fuel to last even longer as our test was done while adjusted to about half of the biggest flame setting.
The Bison Air Lighter comes in two different sizes. Our test unit was the 420 model and retails for $49.95 and comes in a variety of colors. The 520 bigger model retails for $79.95. Basically, the only difference in the two units is the size of the fan, and the 520 uses USB rechargeable battery versus conventional AA size batteries. You can bet we will have this handy unit added to our normal BBQ basket as it makes starting fires simple and fast without any chemicals needed.
[wp_bannerize group="Portrait Ads" random="1" limit="1"]
READY TO BBQ?
Find your next event HERE!
Steak Cookoff Association

KCBS

International BBQ Cookers

California BBQ
[wp_bannerize group="Ending Ads" random="1" limit="1"]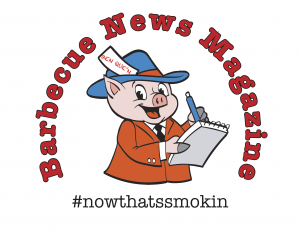 Originally it started as a printed newsletter to let avid barbecuers keep track of upcoming events and results from past events. Today we have evolved into a barbecue and grilling information super highway as we share information about ALL things barbecue and grilling.
© 2022 National Barbecue News:  Designed by ThinkCalico