Smoked Turkey Fatty with Cranberry BBQ Sauce
Photo courtesy of Ray Sheehan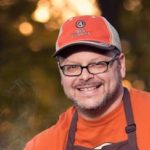 Ray Sheehan
BBQ Buddha
Ingredients:
2 lbs. ground turkey sausage
2 C cornbread stuffing prepared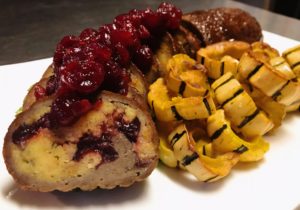 14 oz can whole berry
cranberry sauce
For the poultry rub:
2/3 C chili powder
½ C cane sugar
¼ C kosher salt
¼ C granulated onion
¼ C granulated garlic
1 tsp cayenne pepper
1 tsp thyme ground
In a medium bowl combine all spices and mix thoroughly. Set aside.
For the Cranberry BBQ sauce:
6 oz cranberries fresh or frozen
½ C cane sugar
¼ tsp cinnamon
¼ C red wine vinegar
1 tsp fresh lemon juice
2 tsp Worcestershire sauce
¼ tsp black pepper ground
½ C onion chopped
1 T olive oil
¼ C ketchup
2 T tomato paste
1 tsp Dijon mustard
¼ tsp liquid smoke
Directions:
Place all ingredients in a medium saucepan and bring to a boil. Reduce heat to simmer and cook uncovered for 10-12 minutes, stirring frequently. Continue to cook until the berries break down and the sauce thickens slightly. Allow sauce to cool for 10 minutes; puree in blender to desired consistency.
Assemble the fatty:
Place 1 pound of turkey sausage into a 1-gallon zip top bag and roll it out flat. The plastic bag will make the rolling easy. Cut the top off the bag to leave a perfectly flat sausage patty. Repeat with the remaining 1 pound of sausage.
Top the sausage patties with 1 C of the stuffing each and half of the cranberry sauce. Roll up into a large log; closing any seems. Wrap in plastic wrap and place on a sheet pan in the refrigerator for 1 to 2 hours to firm up.
Prepare a smoker or grill (indirect) to cook at 275 degrees. Remove the plastic wrap from the fatty and season liberally with the poultry rub. Place on a sheet pan fitted with a wire baking rack and cook for 1 ½ to 2 hours until they reach an internal temperature of 165 degrees.
Brush the meat with the cranberry BBQ sauce and return to the smoker to set the glaze, about 10 minutes. Remove the fatty from the cooker and let rest for 5 minutes. Slice and arrange on a platter to serve.