Why You Should Cook at a Steak Cookoff Association (SCA) Cookoff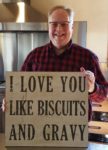 By: Mark Noordsy
Certified Judge KCBS, SCA, EAT
Photos courtesy of Mark Noordsy
I have judged numerous Steak Cookoff Association (SCA) cookoffs and often wondered what it would be like to cook at one. I contacted Larry Dahlen of Austin, Minnesota, a very successful SCA cook, and asked if I could look over his shoulder at an upcoming cookoff. He agreed, and we connected at the Red Bull Steak Cookoff at the Northtown Mall in Albert Lea, Minnesota on October 20th. As with many SCA cookoffs, a non-profit was the beneficiary of the funds raised. For this cookoff, the organizer chooses "Beyond the Yellow Ribbon" a non-profit that supports Minnesota service members, veterans and their families.
The morning dawned a crisp 40 degrees with winds blowing a brisk 35 miles per hour. Not necessarily the best weather to set-up a canopy or to cook in. Nonetheless, 21 fearless teams representing Minnesota, Wisconsin, Iowa, and South Dakota pulled in, strategically positioned their vehicles to block the wind and got down to business – ready to cook ribeyes. A number of teams, mine included, "circled their grills" on the back (sunny) side of the mall which offered some relief from the wind and cool temperatures. It also gave me ready access to 6 teams who allowed me to observe their process.
I would like to thank Larry Dahlen (3-Thirds BBQ), Lu and Damon Holter (Croix Valley Sauces) – each cooking their own entry, Dustin Reese (Hogline BBQ), Mark Huntley (Tattooed Q) and Matt Ouverson/Greg Winchell for allowing me the access they did. It was an incredibly insightful and learning experience.
With the cook sites readied (4 PK grills, 1 Weber grill and 1 Vision grill – all equipped with GrillGrates), we headed to the cooks meeting and the all-important steak selection. SCA cookoffs provide the two ribeyes that will be cooked as part of the reasonable entry fee – $150 in this case. Following the SCA prescribed selection process, each cook drew a numbered chip which determined the order the cooks would choose their first ribeye out of the 50 available. The second ribeye was selected in reverse order as a matter of fairness. There are many factors to consider when choosing your ribeye – even thickness, overall marbling, size/condition of the spinalis dorsi or lip of the ribeye, fat deposits and how well the ribeye is connected together to name a few. Each cook has their own method. The first pass is more difficult than the second due to the number you have to choose from. The second pass was a quick matter of elimination from the ribeyes that remained. Hint – ask to look at both sides of the ribeye.
We now had about 4 hours until turn in and the time was spent trimming, tenderizing, marinating, seasoning, tying and skewering in preparation of the eventual cook. I was amazed at the amount of attention given to each ribeye. Given the large time window, there was ample time to socialize and build on the friendships that have developed over the years and cookoffs. At SCA cookoffs, it is about the competition AND about the camaraderie. All the teams in our "circle of grills" allowed me to observe their techniques and willingly answered my questions … up to a point. Each team had some secret steps they were not willing to share, and that is understandable. I think I would be able to get the recipe for that mixture of the "11 herbs and spices" a famous fast food chicken restaurant uses before I
would be able to shag some of the spice, rubs or finishing sauces that were used.
With the 30-minute turn-in window approaching, the cooks became laser-focused on getting their grills up to temp (somewhere between 600 – 800 degrees) and getting their final seasonings/sauces ready. Thermometers, turners, and timers were set out with surgical precision. Some teams cooked one ribeye as a test and then the other, others cooked their ribeyes at the same time. All the teams I observed cooked their steaks directly over the coals (using either lump or briquettes) on their grills with GrillGrates. I didn't observe teams doing the "reverse sear" method. The final 10 minutes were tense as teams zeroed in on their desired temps, perfect grill marks (technically not a requirement) and applied any final seasoning or sauce to deliver that perfect ribeye for judging. Teams called out times to turn in and when they were "walking" to the turn in area. No one wanted another team to miss the window. After the steaks were turned in, it was time to taste everyone's efforts and assess how they thought they did. There were five judges, and the ribeyes were judged in five categories – appearance, doneness, texture, taste and overall impression – using a 10 point scale. For taste, the judges add one decimal place making the top score in that category a 10.9. The judges are provided a card with the levels of doneness, so there is no question what a "perfect medium" is. There is no weighting of the scores, and no scores are thrown out. The decimal point in taste matters – at this cookoff the difference between first and second place was .1! Well, we didn't win or get a call. Two members of our "circle of grills" did get a call – Matt Ouverson and Mark Hutley. Congratulations to all the cooks who competed and earned a call!
What attracts cooks/teams to a SCA cookoff? SCA cookoffs are less structured than a 4-meat BBQ competition, and you can focus your attention on only two ribeyes. Other factors include the low entry fee, the meat is provided, the cookoff is completed in one day, pay-outs for the top 10 places (11th place won a SCA hat this cookoff!) and you don't need to invest a small fortune in equipment (typical teams have a canopy, cooler, grill, 6-foot table, and chairs). And, there is no garnish to prepare either. Anyone with a grill can compete, and that is why SCA is growing so rapidly. In 2019, there will likely be 225 SCA cookoff events in the US, 25-35 international cookoffs including new cookoffs in South Africa, Mexico, and the Bahamas. Not to mention, cookoff winners receive a "Golden Ticket" to the annual SCA World Championship. If you would like more information on the SCA or upcoming cookoffs, check out their website at www.steakcookoffs.com or follow them on Facebook or Twitter.
So, am I ready to attempt an SCA cookoff once the snow melts in Minnesota? The answer is YES! But, I will need the winter to practice and perfect my flavor profile. SCA cookoffs are very accessible and affordable. Plus, they are a great way to have a day of fun and make some good friends.