Cajun Grilled Scallops:
with Parmesan Grits and Bacon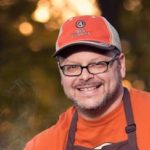 By Ray Sheehan
BBQ Buddha
Ingredients
1 lb Dry Sea Scallops (abductor muscle removed)
2 T olive oil
For the Cajun Rub:
1 T Kosher Salt
1 tsp dried thyme
1 tsp dried oregano
2 tsp paprika
1 tsp garlic powder
1 tsp onion powder
1/4 tsp cayenne
1/2 tsp black pepper
Mix dry rub ingredients together in bowl, set aside.
For the Parmesan Grits:
2 tsp Kosher salt
1 C fine quick cooking grits (not instant)
1 ¼ C half and half
2 T unsalted butter
1 C grated Pecorino Romano cheese
1/2 tsp black pepper
1/4 C chopped scallions
2-3 slices cooked bacon crumbled
Instructions
Bring 4 cups of water to a boil in a heavy 4 qt sauce pan. Add the salt, then slowly add the grits stirring constantly. Reduce heat to low and simmer stirring occasionally until grits thicken 6-8 minutes. Add half and half and butter to grits and stir. Bring to a simmer. Cover the pot, reduce heat to low and cook stirring occasionally for 45 minutes until smooth and creamy. While off the heat, stir in the parmesan and black pepper.
For the Scallops:
Preheat the grill to medium high,
Brush the scallops with the olive oil and dust generously with the Cajun rub. Grill the scallops approximately 2-3 minutes per side till just cooked through. Serve with the Parmesan grits, garnish with chopped scallions and cooked bacon. Enjoy.