Operation BBQ Relief: Story Behind The Numbers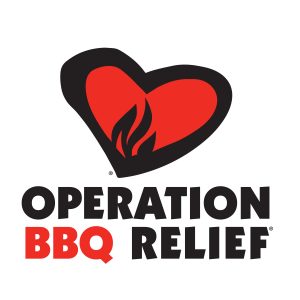 By Kell Phelps, Publisher
Chances are if you are reading this then it is safe to say you are an avid BBQ fan. Because of that fact, it is likely you already know about Operation Barbecue Relief (OBR). What you may not know is the story behind all of the numbers that have been coming from this impressive group. Over the month of September the sponsors, volunteers, staff, and donors put a hot barbecue
meal in front of almost 500,000 people who were in need from hurricanes Harvey and Irma. That number is staggering but even more so if you understand what had to happen to make these numbers possible. Our goal in this article is to help show what it looks and feels like to feed half a million people.
Since OBR started, the National Barbecue News has been honored to work for and with this magnificent non-profit organization. In 2011 we volunteered in Pinson, Alabama where 5,700 hot barbecue meals were produced in a four-day deployment. On September 2, 2017, we arrived in Houston to help with what is now the largest single deployment for OBR. On September 14, 2017 OBR set up camp in south Florida and started feeding victims of hurricane Irma. It is amazing to see how efficient this organization has remained while increasing their feeding ability. We are very proud to verify that this group doesn't waste!
Here are a few of the unbelievable numbers for the deployments in Houston and Florida: 371,760 hot BBQ meals were put out in the Houston deployment making this the single largest deployment ever for OBR. To produce those meals in Houston here are just a few of the products used: 158,872 pounds of raw pork, 18,588 #10 cans of vegetables and 12,392 full-size aluminum pans and lids were used because over 40% of the meals went out in bulk containers that held 250-750 servings. In Florida, a total of 126,400 total meals were
served in that nine-day deployment and was comprised of two locations. That is a total of 498,100 meals served in only 26 days.
As amazing as the above stats are in the previous paragraph they are just that. These stats do not show the miles, sweat, tears, love, and dedication that were also used to produce them. Those stats cannot be measured because they are engraved on the hearts of the thousands of volunteers, sponsors, and donors that made these numbers possible. We can tell you that lives were touched as we witnessed first hand while filling up cars with pans that transported food to the different shelters around Houston.
Let's just be real honest for a second and understand that those in need would have survived with a Meal Ready to Eat (MRE) and a bottle of water. Putting nearly half a million of those in the hands of those in need would be an enormous task to accomplish for sure. Putting a freshly cooked and well-seasoned plate of barbecue meat complete with vegetables and fresh bread is something completely different. We think the comparison of the two meals would be like survival food versus soul food. In a time of crisis, which meal would you prefer? This "soul food" really
does have a positive effect on disaster victim's outlook…even if just for a few minutes.
Over the past several years American soil has been spared from any record-breaking tragedies but 2017 has been a different story. Just looking back at past deployments for OBR shows just how big these recent disasters were. The total need for 2016, during seven disasters, was 536,874 meals over a 45-day deployment period. The two most recent deployments equal over 92% of the total 2016 need but in a time period that is just over half as long and run non-stop. Now that is a tough act to follow for any organization.
Since we have presented some of the numbers, we want to show you the part of OBR that only volunteers get to witness. We know that the numbers mentioned above are important in securing sponsors and donations, but without the sincere willingness to serve others, OBR would not exist. Our monthly contributor Jeff Petkevicius, who helps lead crews with pit work and preparing proteins for shelter delivery, explained how his team keeps on going after a 70 hour work week. He said, "It begins and ends with a laser focus on that one person who needs to know they are loved, and things will get better…One happy belly at a time." Jeff was there for both deployment setups and a total of 21 days straight away from home. Now that is an example of a servant's heart.
The actual payoff for this intense labor comes when you can witness someone who is in need getting to enjoy a meal that you have worked hard to prepare just for them. Stan Hayes, who is a co-founder of OBR, says, "Words can't describe the feeling I get when seeing someone forget about their current disaster while enjoying a hot and freshly cooked plate of barbecue." We have to agree that the English language has yet to invent a word to explain that feeling adequately. While on the front lines in Houston we experienced this feeling about 100 times every day we were there. If you have not volunteered during a deployment, then you are missing out. OBR's volunteers are also a major reason for the growth of the organization. The entire OBR family has genuine servants hearts and it shows through in every single job that they are doing. Most times you will see them smiling and sweating at the same time.
OBR has indeed grown by leaps and bounds but it has without a doubt kept their focus on serving those in need first. As the need grew on the most recent deployments, the resources that were available to get food delivered also grew. In Houston, OBR worked with the US Border Patrol to have Chinook and Blackhawk helicopters transport meals to Beaumont. While in Florida they worked with a few private pilots to fly food into the devastated Keys and as that need rose FedEx stepped up with a feeder plane and pilot to make daily drops of 10,000 meals. Over 1600 volunteers from 23 different states worked with OBR in September alone. David Marks, who is on the Board of Directors with OBR, told us "The selflessness of our volunteers never ceases to amaze me. People flew in and drove in on their own dime. They paid for their own hotels or slept in their trucks and cars. When people lose everything, they have to lose our volunteers give everything they have to give!"
One huge event that happened during the first days of the Houston deployment was OBR's biggest fund-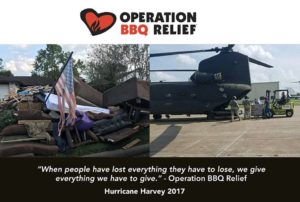 raiser of the year called Pigapalooza that took place during the American Royal in Kansas City. Your National Barbecue News crew had booked flights and rooms to attend that event, but after we received a 24 foot enclosed trailer to be donated to OBR, we simply canceled that trip. We were able to load up the trailer with needed supplies before leaving on the 20-hour trek to downtown Houston where they were set up. Even that essential fundraising event went off without a hitch, and some huge donations were made to help fuel the OBR fire. The success of Pigapalooze goes to prove that the systems this organization has in place are working. I have no doubt there had to be a few hiccups during all of this, but the numbers show proof that the structure is stable. Monster OBR supporter and lead volunteer John David Wheeler posted on Facebook before leaving the Florida deployment "Sometimes when I walk through the airport I see destinations of NYC, Jamaica, Denver and I think it would be fun to go there. Well after two deployments and providing almost 500,000 hot meals to the victims and first responders I just wanna go home. #weareobr. John David also was present for the entire 26 days of deployment.
Currently, the OBR crew and warehouse volunteers are busy cleaning, repairing and getting equipment checked back into their different storage locations. We asked OBR what their current biggest need is now and they told us to keep watching for their updated
Amazon Wish List that will be posted soon. We hope to share that this list with you also in a future edition when they release it. Co-founder Will Cleaver posted this comment when leaving the Florida deployment "You leave a deployment with the hope you did well not only to those who you serve but the volunteers and partners that make Operation BBQ Relief what it is. Lead with your heart and your mind will follow. I will miss my friends and family old and new.  #WeAreOBR."
In closing, we simply have to say how honored and humbled we are as a business to be able to help and work with this beyond awesome BBQ family. We would like to dedicate this entire issue to the men, women, and children who made the decision to get involved with this tremendous organization in any way. Your help and your servant's heart have helped expose OBR to the entire country. As bad as we hate to see it, we know the next big disaster is just around the corner. We also know that when it happens, OBR and its family will be on call and ready roll to help feed those in need.
Until Next Month…Keep It Smokin'…#WeAreOBR
You can get involved and help too! https://operationbbqrelief.org