Barbecue Technology: Improving Everyone's Game!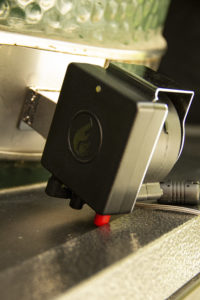 Change can be a tough thing to accept sometimes. When it comes to cooking barbecue, there are very few cooks who will take any type of change easily. Most times these new changes have to prove themselves in multiple tests before actually being used in real-world situations.
There is no doubt that technology in the barbecue world has made it easier to produce great barbecue on a more consistent basis. Think about the old days of having to make your charcoal, building your temporary pits by digging a ditch in the ground and having to guess at the doneness of your final product. We love to play around and experiment with the past traditions but would never consider using those to compete with or serve in a restaurant on a regular basis.
Great barbecue cooks have often said that there is nothing more important than the doneness of their finished product. Darren Wrath, a three-time Grand Champion of the American Royal from Iowa Smokey D's, has shared the above comment on many occasions during interviews. How can anyone argue against this proven fact after knowing his results in the competition world over the past several
years?
Technology in the world of temperature control has undoubtedly been a welcomed addition to many barbecue pits and grills. These devices have made running some outdoor cooking units a pleasure versus the nightmare they can be without their assistance.
Flame Boss is one of several companies that have continued to develop this technology. Their latest unit is The Flame Boss 400-WiFi unit. It's smaller, quieter and easier to operate than any other temperature control device we have ever tested. The universal unit will fit practically any grill or barbecue made. The small fan also pushes enough air around to run even medium-sized barbecue pits.
The technology contained inside the little box is what sets the new device apart from others. A cloud-based downloadable app controls the unit and is available for any smartphone, tablet or home computer. This will ensure you can always see what is happening during your sessions without actually being at the cooker itself. The unit will also continue to update itself over time, so there is never a need to update the firmware that drives the device.
Two brothers, Michael and Roger Collins, started the Flame Boss company and operate it today from their Florida based headquarters in Orlando. Their main focus always has and always will be on customer service. They want to make sure the units they are selling will do precisely what they say they will do. Michael told us in a short interview that "We are dedicated to 100% customer satisfaction for every unit we produce."
We were lucky enough to get to test one of the new Flame Boss 400-WiFi units before it was released and found it very simple to set up and use. Our only hiccup came when we realized our WiFi extender had been moved, by our teenager, without notice and out of range of our outdoor cooking area. Other than our goof we found that unit controlled multiple different grills and pits with ease while allowing us to keep a constant watch on our proteins that were being cooked. Without question, this is the simplest to set up and operate temperature control devices we have used to date.
Michael told us, "My brother Roger gets all the credit for making the unit both easy to set up and simple to operate. The infrastructure that
he has built helps puts the fun back into grilling and barbecuing while using the Flame Boss." Our tests of the Flame Boss 400 WiFi unit certainly showed us that the job Roger has done is working because we found it both fun and easy to use.
The new Flame Boss 400 WiFi unit has just started shipping and retails for only $219. This will get you everything you need to start controlling your charcoal grill or pit like a boss. You can find more info about Flame Boss at their website www.FlameBoss.com or call them at 800-978-9078.
Buy this product directly HERE!