Cider Brined Pork Tenderloin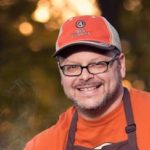 Ray Sheehan
BBQ Buddha
All photos courtesy of Ray Sheehan
Ingredients: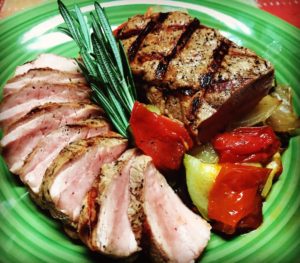 2 C apple cider
1 T Dijon mustard
2 T real maple syrup
½ tsp fresh thyme chopped
½ tsp fresh rosemary chopped
1 tsp ground black pepper
1 ½ – 2 lb. Pork Tenderloin silver skin removed
Directions: For the Brine: In a medium bowl combine apple cider, mustard, maple syrup, thyme, rosemary, and black pepper. Pour the brine into a large resealable plastic bag; add in the pork, turning to coat. Close the bag, pressing out as much air as possible. Refrigerate for 6-8 hours or up to overnight; turning pork occasionally.
For the Tenderloin: Prepare a grill to cook at medium-high heat (about 400). Remove the pork from the brine and discard the brine. Grill the tenderloin for 12 – 15 minutes or until it reaches an internal temperature of about 145 degrees; turning occasionally. Transfer the pork to a sheet pan and let rest for 5-10 minutes. Slice and arrange on a platter to serve.
Grilled Cinnamon Apples
Ingredients:
4 large baking apples such as Rome or Jonagold
1 C light brown sugar packed
1 T ground cinnamon
¼ C pecans, walnuts, raisins (optional)
1 T butter cut in ¼'s
¾ C boiling water
Directions: Preheat grill or smoker to 375 degrees using an indirect method. To prepare the apples: Rinse under running water and dry with a paper towel. Using a sharp paring knife, cut out the cores, leaving the bottom ½ inch of the apples intact. Use a small metal spoon to scoop out the seeds. Place the brown sugar, cinnamon, chopped nuts, and raisins (if using) into a small bowl; stir to combine. Fill the center of each apple with the stuffing mixture and dot with a ¼ T of butter. Place apples in a baking dish; pour the boiling water into the bottom of the pan. Grill or smoke 35-45 minutes or until the apples are cooked through. Once tender, remove the apples from the cooker and baste with the accumulated pan juices. Let rest for 5 minutes before serving.