GOT REGRETS? JASPER IS YOUR CURE!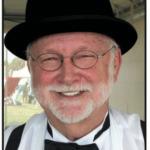 Ardie Davis aka Remus Powers
BBQ Hall of Famer
Photo courtesy of Frank Boyer
Jasper the Pig will soon move from his whiskey warehouse digs in Lynchburg, Tennessee, to Barbecue Hill. He will stand in front of a fireplace in the Jack Daniel's Pavilion while patiently accepting the regrets of the barbecue faithful. Jasper gets fireside fame one night each year at The Jack, when hundreds of regrets from members and friends of the barbecue community enter his belly. After the countdown, Jasper is hoisted atop blazing logs in the fireplace, to the cheers of all present, as the regrets catch fire and go up the chimney in smoke.
As they say, "from Jasper's belly to God's ear."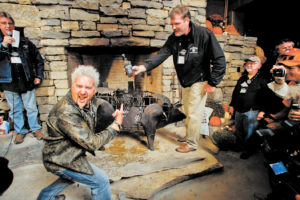 Jasper was designed and fabricated with heavy metal for endurance by the late Tony Stone & staff at Stone Steel in Cookeville, Tennessee. Jasper's belly always holds our regrets at missing Tony Stone, Brian Heineke, Gary Wells, Joe Phelps, Doc Gillis, Billy Bones, Jimmy Bedford, Charlie Vergos, Angelo Lucchesi, Silky Sullivan, Bob Carruthers, Smoky Hale, Wiley McCrary and many other loved ones in the barbecue community, plus other friends and relatives who have passed away. They are not forgotten.
2 EASY WAYS TO HAVE YOUR REGRETS BURNED IN JASPER
1. Mail them to the address below, or
2. Bring them to The Jack for direct deposit in Jasper's belly.
If you've done something you regret or if anything has happened in your life this year or in the past that you regret—including but not limited to bad scores in a contest—write it down for Jasper. You can also telepath it onto a piece of blank paper for Jasper.
What goes in Jasper burns in Jasper.
Here's where to mail your regrets:
JASPER – c/o Debbie Christian
The Jack Coordinator
                 Jack Daniel Distillery
        160 Craig Street
                   Lynchburg, TN  37352
Write this on the outside of your envelope:
CONFIDENTIAL – DO NOT OPEN!
BURN IN JASPER on October 26, 2018
Set your calendar to Friday night, October 26, when the countdown will begin after Jack Daniel's Master Distiller Jeff Arnett pours some Old No. 7 on our regrets. Jasper will be hoisted into the fireplace, and your regrets will be consumed by fire and go up the chimney in smoke.
This symbolic purging frees us to put aside past regrets and focus on moving forward. I'm always relieved when Jasper burns my regrets. Send yours to Jasper today or bring them to The Jack!