IBCA Honors Their Barbecue Legends
Story and Photos
courtesy of Craig Sharry
IBCA President
One thing we can all agree on is we like recognition. There are those that say they don't want it or need it but secretly inside they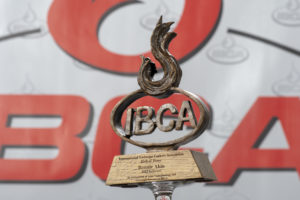 appreciate it when it happens despite what they might say or show. This recognition is certainly appreciated in the BBQ competition world. If you don't believe it just go to an awards ceremony any given weekend and watch how excited folks get when they get their names called. Heck that guy just go 10th place and you would have thought it was a winning lottery ticket.
In many sports and industries across our country organizations have settled upon what might be considered the pinnacle of awards. That recognition usually comes from being selected by one's peers for outstanding service, longevity, skill, or going beyond as an ambassador for their organization. In some cases, it's a culmination for a lifetime of hard work. This elite group of folks end up being a member of some organizations Hall of Fame.
With this in mind the conversation would come up from time to time about IBCA having a Hall of Fame. It was just a conversation where some would get excited or say it's a waste of time. Then for whatever reason it fell by the wayside. Those reasons could have been lack of initiative or maybe it seemed overwhelming on how to go about it. Then again like a plant sometimes the ground has to be developed before the seed is actually planted. This is what I want to believe was happening during those conversations sitting around a BBQ pit at a competition honing our craft. Like others before me I too had these conversations. Quiet conversations amongst friends but no idea how to pursue it. Sometimes I started them at other times various IBCA members would start them. But still just conversations.
Then like most things one day these conversations take a turn. That is what happened with me. Sometime in late 2015 or early 2016 I was in a conversation with a fellow board member. I can not remember all the details today but I do remember him asking me something along the lines of "Why doesn't IBCA have a Hall of Fame"? There it was again .. the conversation. As he continued to talk I continued to think. For once there were several of us in positions to make this happen. It could be a reality. It would be a reality. This was not my creation. I can not take the credit for this idea. Honestly some ideas are nothing more than months or years of thoughts by a variety of people yet in the end it appears it was only one special person that had the idea. Well this is not the case with IBCA's Hall of Fame. This happened because the right folks were in the right position to make it happen. As for myself I am just happy that I was in the right position to help move things forward. And move things forward we did.
First this idea was taken to our board of directors. Having more folks contribute their thoughts and opinions just helped us build momentum. Once the structure was laid out committees could be formed. Then the trophy had to be selected. Then we had to have nominees. And before we knew it we had inducted our first class of Hall of Fame members at our first Annual Awards ceremony in 2017.
As I go into my last year as President of IBCA I look back at the changes in the past three years. What an experience. To have been a part of this process has been nothing short of amazing and I am blessed to have had the ability to play a small part in its success. What has been achieved is due to the hard work of many individuals not just one person. Thank you to all of the IBCA members who allowed me to be a part of this.
Moving forward I challenge our future leaders to remember this. Have the conversations it's where our future starts.
Now let me introduce to your our IBCA Hall of Fame members:
2017: Jeff Shivers, Lynn Shivers, Terry Blount, Ronnie Wade and Arnie Segovia
2018: Michelle Wade, Ronnie Akin (posthumously)
A big thank you to Jason Scull, Texas Sculpture for designing our Hall of Fame Trophy.