Pork Bullseye with Roasted Corn on the Cobb with Lemon Herb Butter
BBQ from the Next Generation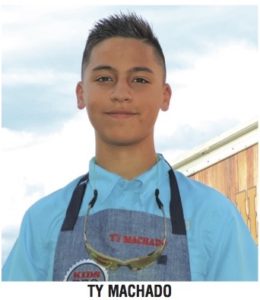 By Ty Machado
One of Ty's signature dishes is what he calls his Pork Bullseye — a bacon-wrapped pork tenderloin stuffed with serrano peppers.
Pork tenderloin
Fresh Serrano peppers
5 strips of bacon
Toothpicks
Your favorite pork seasoning.
Your favorite pork glaze.
Run a sharpening steel directly through the center of the tenderloin until able to insert the serrano peppers with the stems removed.
Stuff with serrano peppers touching end to end
Season with salt and pepper and your favorite pork seasoning.
Bacon-wrap bullseye attaching the bacon to the pork with toothpicks.
Smoke until 130 degrees and bacon is looking good.
Glaze and put back on the grill until 145 degrees and glaze it tacky.
Remove and rest for 5-10 minutes.
Slice as medallions and serve, dressing with additional glaze and BBQ seasoning.
A perfect pairing to this pork dish is Grilled Corn with an Mixed Herb Butter.
Mixed herb, Parmesan and lemon butter
1 stick unsalted butter softened
3 Tbsp. finely grated Parmesan
1-1/2 finely chopped tarragon leaves
1 1/2 finely chopped basil leaves
1 1/2 finely chopped fresh chive
1 tsp. finely grated lemon zest
1/2 tsp. kosher salt
1/8 tsp. ground black pepper
Mix all in small bowl and put in refrigerator to harden.
Shuck corn, season, and grill corn over clean grill over direct heat, turning occasionally in until tender and brown in some spots, approximately 12-15 minutes. Season to taste and top with mixed herb, parmesan, and lemon butter.
This is a perfect summer dish for any occasion.