Ty's Texas Competition Chicken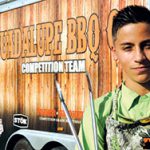 BBQ from the next generation
By Ty Machado
In Texas we cook IBCA, which means we turn in halves of fully jointed chicken. Over the years Chicken has been one of my favorite categories and would like to share a recipe that has worked for me and helped me get plenty of walks, cooking against some of the best cooks in Texas.
4.25 lb natural chicken – spatchcocked with Backbone removed and split between breasts. Trim excess fat and overhanging skin hat would just burn.
5 tablespoon Kosher Salt
2 tablespoon dried basil
2 tablespoon coriander seeds
2 table peppercorns cracked
1 tablespoon yellow mustard seed
1 tablespoon granulated garlic
2 bay leaves
1 cup sugar
Salt, Pepper and Gralic Seasoning ( B&B Charcoals Texas Trinity is what I like to use but there are several on the market but easy enough to mix some up) Texas Trinity will be available soon for retail.
BBQ rub –  ( this will give us the color we are looking for )
1/4 cup granulated sugar
1 tablespoon Light brown sugar
1/4 cup paprika
1 tablespoon chile powder
1 teaspoon cayenne pepper
1 teaspoon smoked paprika
Kosher salt and fresh cracked pepper
Finishing BBQ seasoning of your choice ( we use a seasoning that will bring a little heat)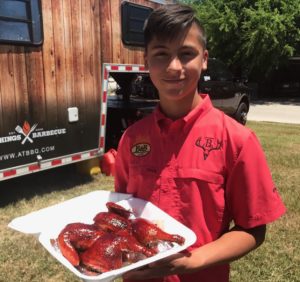 Butter Big Red Baste spray
1 stick salted butter melted
1 can / bottle Big Red Soda (in Texas) Cheerwine everywhere else.
Melted and combined over low heat put into a spray bottle.
BBQ Sauce ( simple and basic)
3 cup ketchup
2 cup water
1/2 teaspoon Worcestershire sauce
1/2 tablespoon vegetable oil
1 teaspoon salt
3 tablespoon brown sugar
1 table chili powder
3 tablespoon honey
3 tablespoon jalapeño jelly
2 table Karo Syrup (light)
Mix all ingredients on low heat once mixed well bring to a boil and reduce. Looking for a smooth finish that will stick to a back of a spoon. Put on Chicken hot.
Secret to Texas Competition Chicken is fast and hot on a charcoal grill.
Brine Chicken overnight,
Remove from brine
Season with the Salt Pepper and Garlic Seasoning , let rest for 10 minutes
Season with the BBQ seasoning and let rest for 10 mins.
Final seasoning of your choice with a little heat  rest for 10 mins.
On charcoal grill on high heat we will set up for indirect grilling with grill grates over direct fire.
I use 1 bag 8.8lb B&B Charcoal Oak Briquette.
1 charcoal chimney , red hot over the remaining Briquettes set up for indirect grilling.
Put seasoned chicken halves breast towards the heat for 30 mins.
Rotate the chicken halves with the legs towards the fire.
Spray with Big Red Butter Baste ( spray bottle)
Target temp is 165 in the thighs and at that point you will be ready to sauce or glaze.
Glaze will be hot and in a squeeze bottle we do not use a brush so we do not leave brush marks.
Once you sauce/glaze put the chicken halves directly on the grill grates to finish and set the sauce/glaze.
A little Char is ok, pretty dose not always win.
Final target temps will be 170 in the breast and 180 in the thighs. In Texas it is crucial to cook the blood out of the leg joint and an automatic disqualification so this is going to be a trial and error process with your equipment but I've given you the basics.
Good luck.
Ty Machado , Pitmaster