Ultimate Sauces & Easy BBQ
Resident Book Guru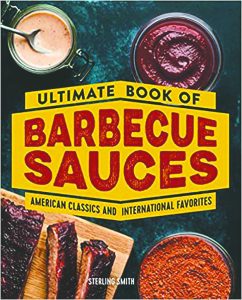 I said it this space before and I'll say it again: When the title of a book contains the word "ultimate", you are already imposing a steep expectation upon yourself. Some accomplish that through shear volume, others do so with expert knowledge and selectivity. Either way, there's an inordinate risk of coming up short of that lofty claim. Seems like I've given away many copies of such books because they just didn't earn a spot on my bookshelf.
With that being said, let's dive right into our first book this month – "Ultimate Book of Barbecue Sauces: American Classics and International Favorites" by Sterling Smith ($14.99, Rockridge Press, 116 pp.). Smith is the owner and pitmaster of Loot N' Booty BBQ, an Arizona-based competition team that has made its name in many of top events (American Royal, Jack Daniels) and currently sells branded rubs and sauces. With credentials like those – plus the fact that this book is a svelte 116 pages – it seems to me Smith is choosing to go the expert knowledge and selectivity route to earn that "ultimate" distinction. In my estimation, he did a pretty darn good job at it.
Referencing those 116 pages again, an author has to be frugal at filling them up with the most pertinent content. Thus I was a bit surprised to see a 12-page chapter devoted to rubs, although after reading it through I realized it was there because of how those rubs fit with the sauces Smith covers. Beyond that, this book covers the topic succinctly in order to squeeze in all it could. There's not many pictures and the few that are there are mostly used in the chapter division pages. The content is presented purely in text with some graphic enhancements. In most books, that a kiss of death; in this book, it's a necessity. The quality of the content makes up for the lack of images.
Aside from the chapter on rubs and another titled Wet Rubs, Marinades, and Bastes (de facto sauces?), the books dives headlong into all things sauces. There a really good opening chapter titled Secrets of the Sauce which includes sidebars such as Five Sauces Every Barbecue Lover Should Try (Eastern North Carolina, Carolina Gold, Alabama White, Kansas City, Texas – hold the hate you Memphis sauce lovers!). The other chapters are pretty straightforward: American Barbecue Sauces, International Barbecue Sauces and Condiments. What Smith did really well (and likely in the interest of space) was presenting just one recipe for the different styles. As an example, he has just one recipe for Kansas City style, rather than adding another from his Uncle Elmo that is a slight variation of ingredients and then another that his team used in a contest. So, does this book live up to its ultimate claim? Yes, it surely does; it is the ultimate in terms of the expertise of someone with the remarkable accomplishments of the author and that's truly something of value.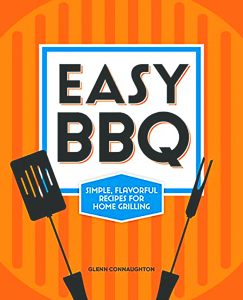 From one notable figure on the competition circuit, let's move to another. This time it's Glenn Connaughton and his new book, "Easy BBQ: Simple, Flavorful Recipes for Home Grilling" ($14.99, Rockridge Press, 122 pp.). Some of you may recall the previous time Connaughton appeared in this space, which was the time I expressed my skepticism about a book on Southern barbecue that was written by a New Yorker who had moved to Colorado and launched a competition team and later a barbecue business. However, I was happy to share that Connaughton's book washed away that skepticism with quality content. So now Connaughton has come back with his next book that is devoted to barbecue dishes prepared easily and quickly on the grill.
This book is full of very creative recipes that are presented in an easy-to-follow manner. The only thing lacking is pictures of finished dishes, which none of the recipe pages include. After an introductory chapter, the book is broken down into the familiar Appetizers, Beef and Pork, Poultry, Seafood, Vegetables and Sides, and Desserts. Some of the offerings to choose from include Moink Balls, Char Siu Pork Tenderloin, Grilled Al Pastor Skewers, Charcoal Chimney Yakitori Chicken, Jamaican Jerk Grilled Halibut, Grilled Cauliflower Mac and Cheese and plenty more.
As with his previous effort, Connaughton delivers with a great book that should be a lot of fun from which to cook.
READY TO BBQ?
Find your next event HERE!
Steak Cookoff Association

KCBS

International BBQ Cookers

California BBQ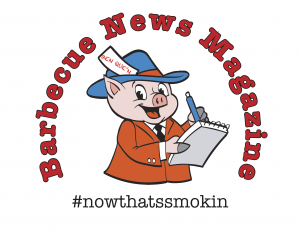 Originally it started as a printed newsletter to let avid barbecuers keep track of upcoming events and results from past events. Today we have evolved into a barbecue and grilling information super highway as we share information about ALL things barbecue and grilling.
© 2022 National Barbecue News:  Designed by ThinkCalico